Chef Shawn McCoy
from Brown Dog Cafe
Petite Paella
Posted: 06/3/2013
INGREDIENTS:

Serves 2
2/3 cup cooked saffron rice
2 T cooked chopped chorizo sausage
2 T smoked rabbit or roasted quail - cut up
4 large sea scallops, cleaned, patted dry
1 T each - chopped red pepper, poblano pepper, red onion
2 T fresh chopped flat leaf parsley
2 tsp minced garlic
2 T chopped shrimp
6 mussels, cleaned
2T chopped roma tomato meat
1/4 cup white wine
4 tsp whole butter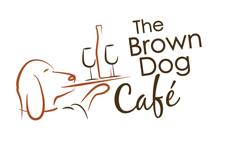 INSTRUCTIONS:

Combine rice, sausage and rabbit or quail, place 1 tsp whole butter in 6 inch cast iron skillet, top with rice mixture, and bake for 20 minutes at 400 degrees until heated thru and crusty on the bottom. While rice is heating, sauté vegetables, garlic, and shrimp in 1 tsp butter until soft, remove from heat, season with salt and pepper, add parsley, wine and mussels. In separate skillet, pan sear scallops seasoned with salt and pepper in 1 tsp butter, for 2-3 minutes per side until brown, Drain, reserve liquid, and keep scallops warm. Place 1 tsp butter, and reserved scallop juice in skillet with mussel mixture, cover and heat on high until mussels are steamed open, top rice with mussel mixture, top with scallops.
Cook Time: