Thomas Martin & Terry Gilliam
from Clough Crossings
Pan Roasted Chicken
Posted: 11/1/2012
INGREDIENTS:

1 cup rice (we use white rice)
1 chicken breast (6 oz)
1 large roma tomato. Cut in half long way. Cut each half in four pieces.
1 heaping table spoon whole butter (salted or unsalted)
1 cup white wine
1 cup shredded parmesan cheese
1 3 oz can artichokes. Rough chopped or cut in quarters and drained.
1 ½ cup fresh thin sliced mushrooms
½ table spoon fresh minced garlic
2 cups flour
1 cup buttermilk
2 cups bread crumbs (Italian plain)
5 table spoons dry ground tarragon. Mix the tarragon well with the breadcrumbs.
¼ cup olive oil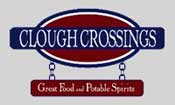 INSTRUCTIONS:

Flour chicken breast both sides completely, dip into buttermilk, then dredge in breadcrumbs. Using a cast iron skillet or heavy sauté pan heat olive oil. Brown chicken breast both sides then remove chicken from pan and place in a 350 degree oven 15 minutes. Meanwhile, in a sauté pan (same) add butter, garlic, wine, tomatoes, mushrooms, and artichokes. Allow this all to simmer for about three minutes or until mushrooms are soft. After chicken is finished cooking, place it in a single serve dish over rice. Spoon all other ingredients over it top with parmesan cheese. Garnish with chopped green onions.
Cook Time: