Paul Barraco, Executive Chef
from 20 Brix
Swordfish Polpetta
Posted: 04/2/2012
INGREDIENTS:

3 swordfish filets, 1.5 lbs. (skinned and diced)
cup heavy cream
1 large egg
cup sweet onion (minced and sautéed)
1 tbsp. garlic (minced and sautéed)
2 tbsp. sweet Thai chili sauce
cup fresh bread crumbs
2 tbsp. Pecorino Romano
Zest of one lemon
2 tbsp. chopped flat-leaf parsley
tsp. piment d' Espelette or smoked paprika
Salt and pepper to taste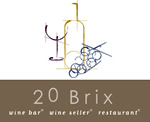 INSTRUCTIONS:

Place diced swordfish in a food processor with cream, egg and breadcrumbs. Pulse until mixture comes together. Place mixture in a large mixing bowl and add remaining ingredients. Ball into 1 1/4 inch balls, roughly the size of a golf ball. Poach in lightly salted water until polpetta floats, about three minutes. Next, bake polpetta on a greased baking sheet in a pre-heated 350-degree oven for 10 to 12 minutes. Serve with a zesty marinara and a crusty Italian bread.
Cook Time: 10 to 12 minutes